It's not too late to start doing Instagram Reels
In this blog post, we're sharing everything you need to know about Instagram reels. If you're reading this, you've no doubt watched Instagram reels for fun, and probably most of you have made a few or even a lot of reels for your handmade business.
But if you have ever struggled with knowing how to grow your handmade business on social media, one great way to easily create content that reaches new audiences is short form video like reels. 
You can listen to this podcast episode here, or read the blog below!
Maybe you've started making Instagram reels and videos but you're overwhelmed even getting started?
Or, you've been making them for awhile, but you're totally out of new ideas for product videos?
Or you're on board with making reels to grow but you just don't want to show your face, dance, or do awkward voiceovers so that's what has been holding you back?
You are ready to grow & hit some big numbers in your small business this year but…
You're struggling with how to showcase your products

& you have no idea how to know what actually works when it comes to video
If this is you, we are SO glad you're here.
We're going to explain why now is the perfect time to be doing Instagram reels, Tiktoks, Etsy explore, and other short form videos for your handmade business, and then in the second part of this, we'll share some great ideas for reels that you can immediately put into action.
👉What is a "reel?"
Just a quick note here, if you're not sure exactly what an Instagram reel is, it's a short form video anywhere from 3 seconds to about 1 minute. 
Instagram used to be primarily a place you posted photos but now, with the introduction of Instagram reels, Instagram is now a place where people watch videos.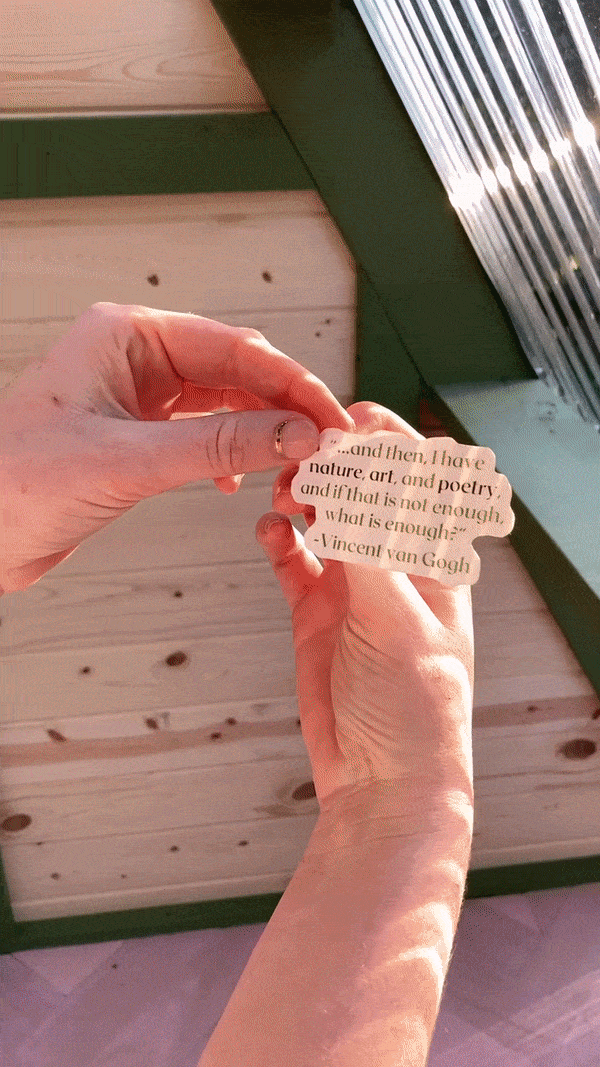 Here's a quick story about how we got started making reels:
 So, we started getting serious with Instagram reels in June 2021. 
At this time, we had around 1,800 followers on our Instagram account. We decided to start posting reels consistently and becoming more comfortable creating videos for our business. 
The most difficult part is getting started. I promise you that what we felt at the time was awkward and overwhelmed, trying to figure out videos, trends, audio, and ideas for our products. But we just kept going, learning how our audience responded to reels along the way and trying new ideas.
Fast-forward 8 months later, and we had grown to around 17,000 followers by February 2022! Now, obviously this is not the kind of crazy story you hear online where influencers grow their accounts by 100k or a million followers in 60 days, but also those people are not making and selling handmade products, so I don't think it's a realistic comparison with your own small business. 
We saw some slower growth over the summer & fall of 2022, but at the time of this blog post (January 2023), we're sitting at around 18,700 followers on Instagram.
So instead, we're telling you about our own increase to show you how possible it is to grow your handmade business's account with reels. In our case, we were able to grow our Instagram audience by 850% in just 8 months. 
👉Our goal here is to show you that your desire to work from home, making cool handmade goods for customers who LOVE what you sell, set your own schedule, & make more money every single month is all possible & we're going to show you why reels can help you do this.
#1 Why are reels so valuable for your business?
Right now, everyone is watching short form videos like Reels, Tiktoks, and now Etsy's new Etsy Explore feature. 
Virtually everyone who sells any kind of product online, right now, should be making short video content for their brand so they can sell more products. Videos and social commerce are the future of selling anything, including handmade products online.
You've probably watched reels yourself, and maybe you even find yourself scrolling through them, watching quite often. 
You've probably also started following brands and found new things you love solely from watching videos online. 
Right now, there are more people watching and consuming reels and video than there are people producing them. 
Although you might feel like you're late to the party, the truth is, you're not. Reels have only been on Instagram since August 2020, so not very long at all. If you start making reels for your business today, you are still really quite far ahead of the crowd and the earlier you can adopt a new software, trend, or technology, the better off you are because it puts you in the position for the most growth. So this is the first reason reels are so valuable right now, because starting now has the advantage of early adoption.
#2 Reels explode your reach on Instagram
One of the best features of instagram reels is that they are shown to people who are not following you. 
Reels serve a totally different purpose than your regular Instagram feed posts. Static posts, or feed posts primarily reach your existing followers, so if you're only posting photos and videos to your Instagram feed, but you're not making reels, chances are that you're probably not growing very much. 
Reels, on the other hand, are primarily shown outside of your existing audience so creating reels is actually the fastest way to reach a new audience and grow your following. 
Reels are shown in the home feed for your existing followers, in the Explore tab AND in the reels tab. Right now, there's just no better way to grow on Instagram than reels because they're the most accessible to different and new audiences.
👉Okay, so you know that:
 1) you can still be an early adopter of Instagram reels, and 
2) they show your products to new audiences in a very easy and affordable way.
Now let's talk about how to make reels that show off your products & blow up your social media following:
 Btw - to do this, you don't need a huge social media following btw. 
You don't need a huge audience. 
You need the right audience. 
And you can attract these customers to your shop with videos that:
 1) bring your products to life
 2) engage and
 3) attract new followers
👉So first, reels can bring your products to life in a way that photos simply do not. 
You can have the most beautiful photos in the world, but the truth with e-commerce is that videos capture people's attention in a way that photos no longer do. 
So, the first factor is that videos are how people experience products on social media and the second is that videos are such a huge opportunity to capture every beautiful detail of your products. You can not only show 360 views, but also your process of making your products, how they're used in real life, and so much more.
Ok so at this point, we're hoping you're on board with creating videos to show off your products, but how do you actually make videos people want to watch?
The answer is to create reels that appeal specifically to your target customer. 
You want to create reels that offer value to your customer in some way.
 So, when you make reels, think carefully about what would appeal to your customer. Really try to put yourself into the position of your dream customer, instead of your position as the maker.
Your goal should be 1 of 3 things: educate, inspire, or relate to your dream customer.
Educate reels:
You could create reels that show how to apply your stickers, or how you wash your pottery mugs. You could educate about sustainability, or how to style your fall t-shirt collection with denim and bucket hats. 
Inspirational reels:
This category of reels, I believe, are going to be huge in the near future of instagram. These are reels that make people feel motivated, like their dreams are achievable. 
So inspiration like learning how to crochet would be a great kind of reel for someone who sells digital crochet patterns. If you make party cake toppers, you can create cute, inspiring party content that's beautiful to the eye to watch. If you sell journals or digital manifesting guides, creating aesthetic reels that show positive morning routines would be a great way to use instagram reels.
Entertaining/Relatable Reels:
Finally, entertaining/relatable reels are a great way to make your brand feel personable and interesting to your target customers. There is so much room for creativity here but the key is to really make sure what you create is actually going to be funny or relatable to your audience. This is the chance to show off your daily mom life that your customers will totally get, or give your products a personality of their own, or make fun of your own coffee habit.  
And, if you're not sure what is relevant, relatable, and funny to your audience, we teach you 3 easy methods to find this out in our mini course, The Creative Reel. 
One other important thing to think about is that Reels help expose you to new customers who are in alignment with your target audience. 
Although getting hundreds of thousands of views on reels is actually quite possible, I also want to note that a reel that gets 500 views, 1,000 views, or 5,000 views can still be enormously successful in helping you make sales.
Reels might seem like a numbers game, like the more views, the better. 
This isn't really true however. When you focus on creating engaging video content for your target customer, you'll actually see steady, regular growth over time.
This is because when you create reels that help you reach people who actually fit your target customer, a couple of things are going to happen. 
1) people who aren't your target customer will just keep scrolling.
 2) people who are in your audience are going to feel that, "wow I love that" factor and they're going to follow, comment, ask you for more info, or purchase your products, which is far better than reaching the masses who hit like one time and then move on.
How do you start making reels?
If I'm being fully transparent, when we started making reels, it took a lot longer to do them than it takes us now. Everything gets easier the more often you do it, right? 
👉A good goal would be to create 1-2 reels per week and try to stay consistent with this schedule. Once you've mastered that for a month, you could go up to 3-5 reels per week.
Instagram, like every social media platform, loves consistency, so don't post and ghost.
And, if you've never made a reel before and you feel totally clueless about the video process and you need a step-by-step tutorial, don't worry, we teach you the basics in our course, The Creative Reel. 
In part 2, we will share some of our favorite, current reel ideas so you can get started right away making more short form videos for your handmade business.